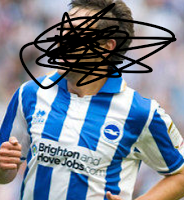 I spent the first Saturday night of the season talking like a jealous ex-boyfriend. I wasn't talking about a ex-girlfriend I want to get back together with. Just one where things ended well, but my jealous side didn't want her to do as well as me in the future. I could have been talking about Heidi (2003-2004), but I was talking with a Brighton fan and my ex-girlfriend was Will Buckley.
My friend was in a fantastic mood – big win, new favourite player and a shiny new stadium. Selfishly I was trying to take the edge of his high by warning him of Bucko's inconsistency last season and how a strong Championship full back could easily stop his fast pace. I was jealous, simple as that. I may have been clutching at straws when I boasted that yes, he may have a new stadium, but I've got a brand new yellow seat in the Rookery End.
On Sunday during the Charity Shield I felt proud and was reminded of two other ex-girlfriends. Alice (2002) and Anna (2007) known to you as Ashley Young and Tom Cleverly respectively. Alice was younger than me and I was her first boyfriend. The relationship was great, I was helping her get on in the world and whenever I see her I like to see that she's gone on and done well.
Anna was a short-term thing, great fun, but in truth I was punching way above my weight. She had to find someone cooler than me. Like with the girls I felt like a happy and content ex-boyfriend watching Ashley and Tom in their red shirts lifting the Charity Shield. Maybe I helped them become the player they are today by cheering them when they played for Watford. Probably not, but I do smile when I see them playing on football's biggest stages.
Early on Sunday, during the West Ham Cardiff game, I saw lots of Watford fans on Twitter talking about Malky Mackay like I do about Emma (1999-2001). I understand some upset towards him leaving, taking backroom staff with him and using knowledge of Cowie's contract to get him on a free. I've got to say, I've been astounded at the abuse and hatred Watford fans have expressed towards Malky. He was a great servant to our club as player, coach and manager.
He got us through one of the toughest times in our clubs history. I'm not saying we should all get behind him and make Cardiff our second club, but let's not be rude to a man who deserves many thanks from Watford fans. He'd probably achieved all he could at Watford and if he wants to manage at the highest level, as Ashley and Tom are playing at, he needs more new stories to tell in his managerial career.
We have to move on and not put our energy into hating someone. Let's put it into getting behind Watford this season. Maybe he should have gone to a Premier League club and we could have both had a clean break.
Six new players have joined Watford over the summer and I'm sure at some point they will leave, they always do and that's fine. I guess the way they play and how they leave the club will dictate which of my former girlfriends I will compare them to. We certainly don't want an player/girlfriend like Eloise (a scary two weeks in Dec 2006), and luckily I don't think we'll ever sign Mario Balotelli.
Come on you Horns!
N.B. – No names were changed in this blog post.