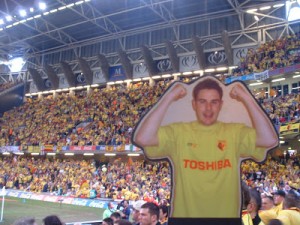 This season we're hunting down 100 objects that define Watford Football Club. Each provides a evocative memory or time in Watford's history. They can be historic objects that define the most important moments on the pitch or personal objects that define your relationship with club. To play your part email your suggestion to podcast@fromtherookeryend.com.
Read the list as so far on our Watford in 100 Objects page.
Here is our third object, which looks some what like Mike's brother Andy.
Object # 3: Cardboard Andy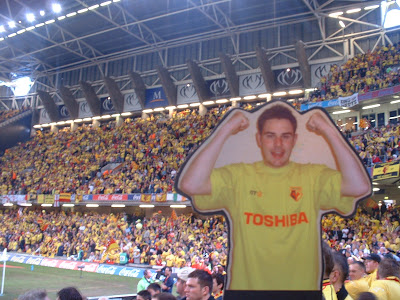 The 2005/06 season was an extraordinary one for Watford fans. Widely tipped for a struggle under the stewardship of rookie manager Adrian Boothroyd, a Marlon King inspired Watford confounded the critics to finish third in the Championship table, securing an unlikely Play-Off berth against Crystal Palace.
As the Hornets swept into what was to be an unassailable three goal lead at Selhurst Park, there were scenes of delirium and joy all around. Unashamed delight was etched on each and every face in the packed away section. Apart from one. Next to me sat my brother, Andy. He was smiling, but in a slightly detached, vacant way. Barring a second leg miracle, Watford were going to be in their second Play-Off Final, and Andy knew he was going to miss it.
You see, Andy – like every other right minded person, hadn't anticipated Watford being involved in the post season fun and games and had booked a holiday. Watford and 35,000 supporters would be going to Cardiff and the Millennium Stadium. Poor old Andy was going to be in Cyprus.
Andy was understandably devastated, but he quickly set about finding a solution. A combination of his fiery girlfriend and a no-cancellation policy rapidly made it clear that reorganising the trip was out of the question, whilst his politely worded requests to the Football League for a change to the date of the fixture were met with stony silence. It was now clear he wasn't going to make it, but still he wanted to ensure his presence was felt in Cardiff. He struck upon an idea.
A cardboard cut-out.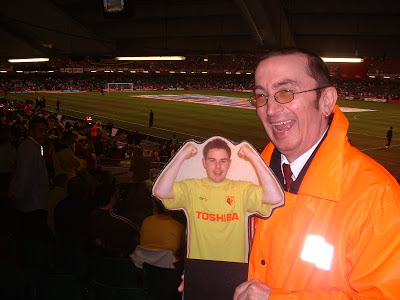 If he couldn't be there, at least his image could be. The players could see his face, they'd know he hadn't deserted them. (Yes, we are talking about a grown up here.) Despite concern from family and friends for his mental health he set about creating a number of cardboard likenesses. And so it was, that on 21 May 2006, my friends and I could be seen boarding the train to Cardiff clutching beers, Watford scarves and my brother's grinning face plastered onto a couple of cardboard placards.
A mixture of amusement and bemusement met us wherever we went, although I didn't expect to be asked "When did he die?" on more than one occasion. Not the intended message! Unabashed, we continued to display the cut-outs, propped up at the bar, introducing "him" to fellow Hornets, or simply waving them in the general direction of the Leeds fans, housed at the other end of the stadium.
The rest of course, is history. Watford had the beating of Leeds from the get go, and three unanswered goals meant Watford were the first club to win promotion via the play offs without conceding a goal. Of course, no other club had a cardboard cut-out of my brother. If only Billy Davies had thought to take them along…
One of the specimens was badly damaged during the ensuing celebrations, whilst the other was returned, a touch rough round the edges, to my brother. It is now safely stored in a top secret location, ready for use once again should Andy be out of the country on an important match day.
In this age of "plastic supporters" who only make the effort to see the big teams or important games, I am proud of my brother. Watford's one and only cardboard fan.
Mike