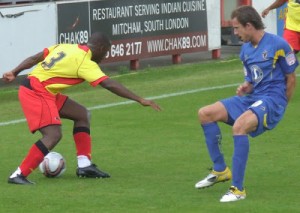 This blog was first published in the Watford v Derby Matchday programme on Saturday 13th August 2011.
Over the summer many players have taken a trip on the transfer merry go round, but Mike is ever so happy that Watford have one constant.
So here we are again then, 104 days after we saw QPR clinch their Championship title, it's all beginning again. Exciting isn't it? I'd like to begin by saying well done and thanks for not joining Cardiff City over the summer – at one stage it looked like all but the East Stand was going to up sticks and head down the M4, so congratulations on sticking with the Hornets.
Of course, in reality there is never any question of us deserting our club. Players, managers, staff and even stadiums come and go, but us supporters are always here. We're loyal. Occasionally, players do come along that match our dedication and devotion. We've all heard of the phrase "One club man", but it isn't too often we get to use it. As Watford fans we are lucky enough to have one such player in our midst.
Since coming on as a substitute against Birmingham City on Wednesday 26 September 2001, he has played under six different managers, played over 300 games for the Hornets and has scored a single, memorable goal. Ladies and gentleman, I give you Lloyd Doyley.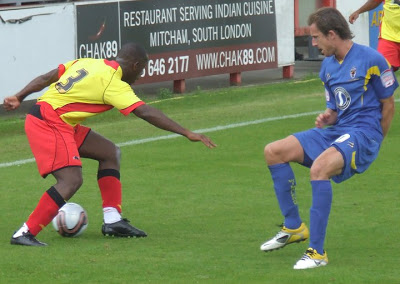 Lloyd still has the skills to pay the bills
In an age that sees the likes of Carlos Tevez demanding to move club each time the weather changes, having a player in his testimonial season on the books is something to be proud of. In many ways, Lloyd sums up Watford. Whilst I'm sure the great man will be the first to admit an England call up is unlikely, his dedication, professionalism and commitment are up there with the best that football has to offer. Like the club he represents, Lloyd is a community ambassador – only too happy to do his bit with the fans – I'm sure many of you reading this will have had the pleasure of meeting him.
Like most footballers, Lloyd has put up with his fair share of criticism, left out of the team by Brendan Rodgers, he worked hard, battled back and eventually proved him wrong. Proving people wrong. Sound familiar? Look through any of the multitude of pre-season previews and you'll pick up a common theme. Watford are going to struggle. Again. With one game gone though, the Hornets are already giving the "experts" cause to reconsider – a 2-2 draw away at Burnley an admirable way to kick off the season.
So. The 2011/12 season is under-way and along with the football, there will be a number of events to mark Lloyd Doyley's testimonial. He's done a lot for our club and will no doubt continue to do so, so let's take this opportunity to show our appreciation by supporting him as he celebrates ten years as a hornet.
You can still listen to our 30 minute interview with Lloyd where we discuss his 10 years playing in Watford's first team. Download it via iTunes or listen now by press play below.