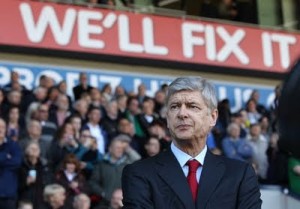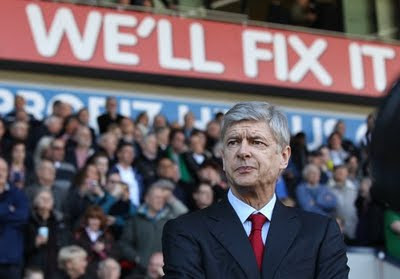 A few weeks back I bumped into a fellow Hornets fan in the staff restaurant at work. It was the morning after the Bristol Rovers cup tie, and as I had made the dash down the M4 the previous evening I thought it best to give him my assessment of the game. As you've probably guessed, it wasn't very positive. A colleague who was party to our conversation picked up on this and commented "It could be worse, you could be an Arsenal fan". I can't remember what my response was at the time. I think I was too tired to bother launching into a tirade. But come on, seriously. I'd love to be able to watch my team play in a 60,000 capacity stadium. I'd love to see them competing in European competition year after year. Wouldn't it be great to see some silverware in the Watford FC trophy cabinet every few seasons. And just think who we could buy with the £30m or so that Arsene Wenger spent in the transfer window.
That lunchtime incident made my brain over sensitive to Arsenal fans moaning and whinnying. Over the next few days I seemed to turn the radio on just as Gooners were ringing in with calls for Arsene to start spending some money. Facebook was full of Arsenal supporting friends status updates taking some sort of sadistic comfort in the fact that at least they had a point more than Spurs. And the workplace still managed to throw up the odd "Arsenal are hopelessrubbishuseless" from their armchair brigade. None of them were very happy and even the most optimistic were simply clutching at straws. The burden of expectation appeared to be weighing them down. So I began to wonder, perhaps my colleague is right. Maybe it would be worse being an Arsenal fan?
The following Sunday after making the short journey home from Vicarage Road and our first home point of the season (thank you Martin Taylor!), I flicked on a certain sports TV channel to watch the remainder of the Man United v Arsenal game. My timing was impeccable. Rooney was just banging in United's fourth. And as the procession that was the second half unfolded before me, a little smile grew on my face. Now there could be a few reasons for that. Goals are the be all and end all of football and I love watching high scoring games. You can stick your catenaccio up your proverbial. I also have a soft spot for Man Utd (please don't hate me). It's a long story that stems from my time at University in Manchester. And I guess I was in a good mood anyway after the Hornets snatched that late point. But the main reason for taking such pleasure from this game was the fact that all these Arsenal fans that don't appreciate what they have were suffering a very public humiliation. Schadenfreude is a terrible thing, but I couldn't help it. I am only human after all.
So that particular weekend I was laughing at Arsenal. I would have been laughing at them even more if Danny Graham had bagged that equaliser at the Emirates on Saturday, but it wasn't to be. It appears the Arsenal fans are still moaning about Wenger's tactics though, so we've probably got another couple of days of ear-ache until the Borussia Dortmund game. That's Borussia Dortmund in the Champions League. THE CHAMPIONS LEAGUE, for goodness sake! Stop moaning!! You know what? I'm so glad I'm a Watford fan.
Jason