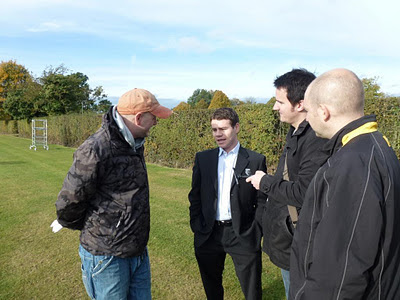 What do you get if you combine Two Scotsman, a Republic of Ireland international and an American Watford fan who has travels 4684 miles to watch the Hornets?
The latest edition of the From the Rookery End podcast!
After an enjoying back to back wins against Peterborough  and Brighton, there is more good news for Watford fans as a bumper edition of the podcast 'From the Rookery End' is released.
The latest edition features interviews with two Watford players; summer signing Craig Forsyth and up and coming star Tommie Hoban. Craig Forsyth speaks about making the transition from Scottish football to the cut and thrust of the Championship, whilst U19 International Hoban talks about life as an Academy graduate, his debut at Preston and his hopes for becoming a first team regular.
As controversy continues to rage about the new 'Elite Player Performance Plan' (EPPP) the boys take a timely opportunity to talk to Watford's Head of Football Business, Ross Wilson, about the impact the new scheme could have at Vicarage Road as well as getting an understanding of Wilson's role in the day to day operations at the club.
Jason, Jon and Mike are also joined by special guest presenter Curtis Petiford, a Watford fan based in Denver, Colorado who had travelled to England with the sole purpose of watching the Hornets take on Peterborough.
This is an important podcast for us as there were some really big issues to discuss. Obviously the start to the month was tricky from a footballing point of view, and the news regarding the EPPP was of huge concern to many Watford fans, myself included.
The interview with Ross Wilson was a perfect chance to discuss exactly how the proposals will affect Watford and hopefully the interview will help give fellow fans a better understanding of where the club stand.
Ross also provided a valuable insight as to the challenges he faces when dealing in transfers, the clubs stance on loans and his hopes for the future of Watford's emerging talent. It was really encouraging to be reminded how big an emphasis is placed on bringing through youngsters.
It was a privilege to talk to Craig and Tommie and to have Curtis with us was tremendous. The fact that he's travelled 4684 miles just to see Watford is a reminder as to how wonderfully bonkers football can be. Without football, and more specifically Watford, we'd never have met him and it's great to make new friends through football. He's also never seen Watford lose, so we're working hard to get him back on a more regular basis. Perhaps Sean Dyche and the lads could chip in for his future flights!
The podcast, which also includes the usual chat about the months football and details on the latest objects to be added to the "Watford in 100 objects" list. It is available to download for free from iTunes or the website www.fromtherookeryend.com. And remember you can also interact with the podcast team by visiting facebook.com/rookeryend.