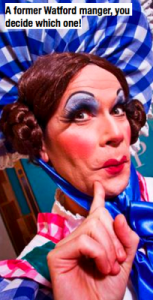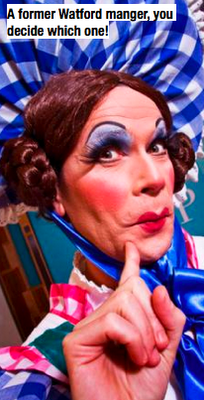 Mike looks at the transformation from hero to villain… With Christmas well and truly upon us, many of you will have a trip to the pantomime pencilled in a part of your festive itinerary. Even those of you not heading to the Palace Theatre to see Jack and the Beanstalk will know that an integral part of any such show is the pantomime villain, a character identifiable by his dastardly deeds and the chorus of boos that accompany his every move. Of course, such characters aren't limited to the stage at Christmas, football is awash with characters that we all love to hate…
Malky Mackay is back at Vicarage Road for the first time since his departure for Cardiff, and I'd be disappointed if he wasn't afforded a good reception by the Vicarage Road crowd this afternoon. The same can't be said of his predecessor, Brendan Rodgers who also left Watford for Wales in more acrimonious circumstances. After cultivating a Watford side that was playing the best football seen at WD18 for many a year, Rodgers was the subject of much speculation linking him with jobs elsewhere. He was quick to publicly quash any rumours, boldly stating that anyone suggesting he would leave was "questioning my integrity". Days later he was announced as the new Manager of Reading and his name was instantly chalked off the Christmas list of anyone connected with Watford.
Our club are rightly proud of the home grown youngsters we produce –there will be a number on display today and youth team graduate Lloyd Doyley is entering his testimonial year. Not all of them work out how we would have liked though, with David Connolly a prime example. Connolly burst onto the scene in 1996, a striker with a happy knack of being in the right place at the right time, with hat-tricks an apparent speciality – Connolly scored three in his short spell with the club. Watford fans quickly realised they had unearthed a potential gem, but sadly for them, it was opinion shared by the player himself who soon made it clear he wanted a move away from the club. A number of petulant and unnecessary statements from the player, combined with some forgettable performances on the pitch meant that his departure on a free transfer to Dutch giants Feyenoord left Hornets fans with a bitter taste in their mouth and Connolly assured of a hostile welcome should he ever return to the Vic.
Equally prone to a less than warm welcome from Watford supporters is one time fans favourite Lee Cook. That rarest of commodities – a left footed attacking midfielder, Cook flourished under Ray Lewington and was unplayable on his day, giving the supporters as much pleasure as he gave opposing defenders grief. Ultimately though it was the fans who were to feel hard done by as Cook departed for rivals QPR, a move that still rankles with the Hornets faithful.
There have been others of course. Midfield workaholic Andy Hessenthaler didn't do himself any favours by announcing he wanted to leave to play at a bigger club only to drop a division to join Gillingham, whilst more recently Jamie Hand made sure my plan to rename the East Stand after him will never come to fruition by joining that lot up the M1 and proceeding to claim his new club are bigger than his previous employers. The buffoon.
For every villain there has to be a hero and the current crop will be out there in front of you this afternoon. As fans we have to make sure the bad guys know we're on to them, but the good guys need and deserve our support too.
Merry Christmas and Come on You Horns!