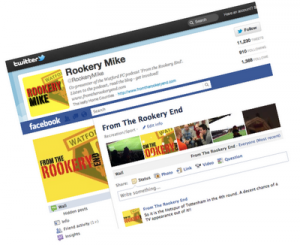 For the 22nd From The Rookery End podcast, out in Mid-January, we are going to try something out, something that may or may not work, but we need you to get involved and be part of it.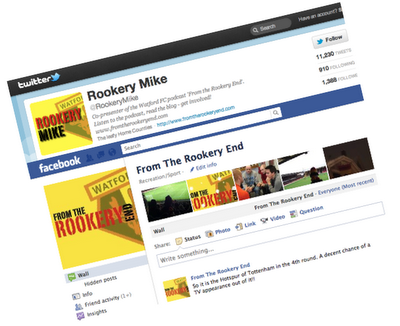 This Saturday (14th January 2012) Watford take on Reading at Vicarage Road. The game is live on the TV (Sky Sports 2 / HD2 from 5pm) and 10,000 of Watford fans around the world will be watching the game live on. To capitalise on this mass community experience we thought we would record the podcast during the game asking you to send us your comments and thoughts via our Twitter and Facebook accounts as you watch along either in the ground or at home (wherever in the world that might be).
At points through out the afternoon we will tweet/post a question or observation about something specific that we want you to comment on. It could be about the line up, a specific player or an on pitch incident. We'll put it out there, wait 10 minutes for your response and then record our chat including your input. We get so many of you sharing their thoughts and passions via email, Twitter and Facebook but we're not able to get it into our pre-recorded podcast. In the first 21 editions of FTRE you've helped us write songs for players, suggest objects for our Watford in 100 Objects list and write comedy PA announcements. Due to the way we record the podcast you've not been able to mould our chat.
If you're on Twitter then make sure you follow three of us – @RookeryMike, @RookeryJon and @JasBailey – and during the game use the hastag #FTRE in tweets and responses. And on Facebook make sure you like our page – www.facebook.com/rookeryend and you can comment on the wall and on anything we post up.
We can't wait to see what you've got to say!