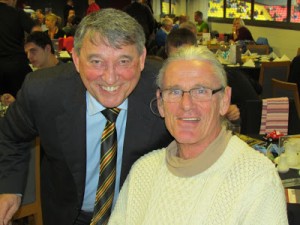 Whilst Watford were busy dismantling Bradford City in the FA Cup last weekend, a few hundred miles up the M6 Sir Alex Ferguson was busy planning a move that to steal all the third round headlines. The inclusion of recently retired midfielder Paul Scholes as a substitute caught the footballing world by surprise. His performance in a memorable win over fierce rivals Manchester City was only overshadowed by Thierry Henry scoring a late winner for Arsenal on his first appearance for the club after his controversial return on loan. Both men have made a mockery of the oft held belief that 'you should never go back'.
Here at Watford we've had our fair share of returning heroes – Luther Blissett, Tommy Smith and of course the one and only Graham Taylor have all made triumphant returns to WD18, and as Scholes and Henry completed their triumphant comeback this weekend, Henry with a bit more Va Va Voom, I couldn't help thinking about which names from Watford's past I'd like to see make a return…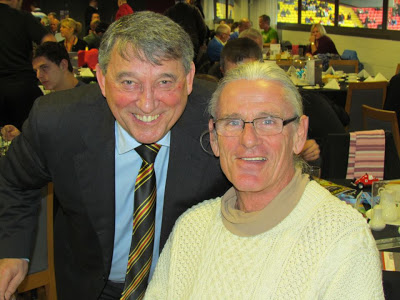 GT and Ross Jenkins at the Doncaster game – we'd have them back in a second.

Despite my alarming descent towards middle age I still see myself as relatively young, and my tender years mean I never got to see the original Ross Jenkins in action. Talked about in glowing terms by Watford fans of all generations, the reception he received as a guest of the club for the game against Doncaster confirmed the esteem in which he is held. A man who clearly loves Watford as much as Watford loves him – it would be great to see the big man in action and terrorising defenders on our behalf once more.
I was also too young to fully appreciate the contribution of the flamboyant Maurice "Mo" Johnston. Whilst Johnston's goals would of course be welcome (he scored 23 goals in 38 games for the Hornets), Mo was also well known for his off field activities and in the modern age of rolling news and social media, I reckon we'd be kept royally entertained by the news of whatever the Scotland international was getting up to away from the football pitch. The little tinker.
Finally, I'd like to see a comeback for one of Watford's more forgettable figures. I'm not usually one for speaking ill of those that represent my beloved club, but I'm afraid for goalkeeper Perry Digweed, I made an exception. Now it could be that poor Perry was representing Watford at a time when our back four was particularly porous, or it could be that I just took offence to his bouffant hairstyle. All I know for sure is that I was uncharitable towards him and would like to give us both a second chance. His reintroduction to the squad would enable him to prove me wrong about his playing prowess, although I suspect his haircut will always be a shocker.
COME ON YOUR 'ORNS!