We've all got heroes. We've all got people we look up to and admire. Not all of us get to meet them, and those that do are often left disappointed – the reality is usually that the sportsmen, musicians and actors we idolise are at best just like us, and at worst rude and boring. It's not always the case though. I'm proud to report that I've met one of my heroes and that he was as much of a star as I'd hoped. Ladies and gentlemen, I give you Lloyd Doyley.
Having met and interviewed Lloyd for the 'From the Rookery End' podcast on a number of occasions, me and the rest of the team were delighted when we were invited to play a part in the organising of Lloyd's testimonial year – LDX 2012. Watford's versatile defender and part-time goal machine is as likeable off the pitch as he is hard working on it, funny, generous, warm and delighted to be representing the Hornets for a living. Lloyd also has a young family and is proud of the way Watford are so welcoming to supporters of all ages so it seemed fitting that the first event of his testimonial year (the first of many by the way – watch this space!) should be one that will provide a day to remember for Hornets fans of all ages… The Lloyd Doyley Gameshow Extravaganza!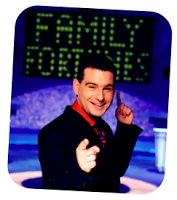 The idea was born when a Watford supporter with a familiar face agreed to play a part in Lloyd's big year. TV presenter and comedian Andy Collins has presented television shows such as Family Fortunes and Garden SOS, as well as being a pantomime regular, but when not in front of the camera he loves nothing more than watching the Hornets and was only too happy to bring his expertise and infectious energy to proceedings.
With an experienced gameshow host on board it seemed sensible to explore the idea of a gameshow themed event and it quickly became clear that it wasn't a good idea, it was a great one! Andy has been working closely with Lloyd and the organising committee to come up with a great event, one that is suitable for all ages and that will give you the chance to play alongside Watford FC players and staff in a range of different, exciting and fun gameshow style events. You'll also be able to win one-off, money can't buy prizes as well as meeting your Hornets heroes!
The event will take place on Sunday 18 March 2012 between 2:30pm and 5:30pm and will be hosted at 'Area' in Watford town centre. Usually a nightclub, for one day only the venue will be open to Watford fans whatever your age, providing a unique and fun way for you and your family to see Lloyd and his team-mates as they have never been seen before.
We can't wait!