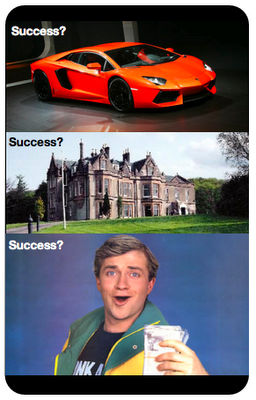 Success. It means different things to different people. For some it's a flash car and a big house. For others it's a well paid job, whilst sometimes simply being happy is enough. In the sports arena it tends to be a bit more cut and dried. Success is measured in medals, trophies and titles.
Or is it?
There's a lot wrong with football. Tal Ben Haim continuing to collect over £30k a week as a Portsmouth player, whilst club staff who don't earn his weekly wage in a year are laid off. Diving and play acting. Selhurst Park. The waving of imaginary cards. Robbie Savage.
All things that as football fans we'd be glad to see the back of. But despite all the nonsense, our beloved sport continues to enchant generation after generation of supporters. The reason? Whilst it may manifest itself in different ways, every club has a chance of success.
To the non-Watford fan, last week's series of games against Burnley, West Ham and Derby would represent nothing more than a set of decent, yet unremarkable results. To Hornets supporters however, they meant much more. That week of football almost certainly secured Watford's Championship status for another year, the only realistic target our football club had this season. Success for us then is avoiding relegation.
It may not result in a trophy, but it feels good doesn't it?
Of course, fans of the Manchester clubs and Sky Sports pundits couldn't possibly understand how being just good enough not to go down could represent success. After all, where's the glamour in finishing 17th in the Championship? That's the joy of it though.
We've all got different ideas of success and only those of us with an emotional investment in achieving it will truly appreciate the joy of what to others may appear to be a mundane achievement.
Nottingham Forest would be cock-a-hoop if they beat Derby once a year. Ecstatic if they do the double. For Yeovil, reaching the fourth round of the FA Cup could be a dream come true. For Portsmouth and Port Vale, still existing come April would be a result.
We all want different things out of our football watching experience. We'd all love to taste success in the form of trophies and titles, but that doesn't mean we shouldn't celebrate our own, personal versions of success as wildly as those that take home the silverware.
Sean Dyche, his team of coaches and the players have done incredibly well to get us where we are today. I suggest we all enjoy it.
Come on You Horns.