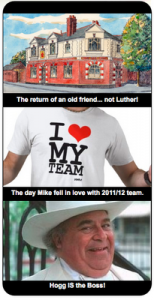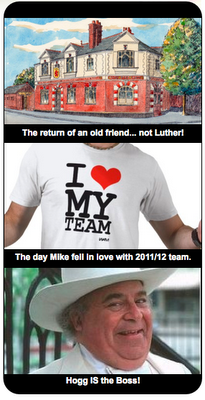 As the season winds down, Mike looks at some of his favourite moments of a memorable season…
So, that's almost it then. Barring a set of staggering results, we're one Watford home game away from the end of the season. The tail end of the season always catches me out – for some reason I always think there are more games left than there are. I guess that's what happens when you are sitting comfortably in mid table. I don't doubt for a minute that the fans of Doncaster, Pompey, Coventry et al know how long is left of the season to the second; it's nice to be able to relax isn't it? So, for the last two home games I've decided to do exactly that. Sit back, chill out and share some of my highlights of the season. Enjoy!
My first highlight is going to be the most recent. Ahead of the game with Blackpool, a venue that is synonymous with Watford FC threw open it's doors for the first time since 2006. Last weekend my pre-match experience included The Red Lion pub. It was pleasing for a number of reasons, among them of course the fact that a few beers made an awful game slightly easier to watch. Many have argued that there isn't a business case for the reopening of what is an iconic venue for Hornets fans, I'm probably among them. However, once inside you can be certain of one thing: you are amongst friends. A stones throw from the ground (is there a pub nearer to a football ground anywhere?) the pub was jam packed with fellow Watford fans, all wondering if our amazing run could continue. After the game it was full of the same folk reflecting on how well we'd done to even be in that position in the first place. Of course, it must also be pointed out that this was something that the Watford owner Laurence Bassini promised us – and delivered. Let's hope he continues to make good his word.
Next up is the day I fell in love with the team of 2011/12. We knew this season was unlikely to be easy, and when the new look Watford side, flush with a teams worth of new faces won just three of their first 15 fixtures it was hard to feel much but dutiful support for our boys in yellow. Fast forward to Saturday March 3rd however, and we knew this was a Watford side we should be proud of. At 0-2 down at home to Burnley, we were in very real danger of being dragged back into a relegation dogfight we thought we were clear of. Or so we thought. A fearsome second half display saw the Hornets run out 3-2 winners and as the final whistle saw the majority of the team lying flat out, utterly exhausted on the turf, it was clear to see that this group of players wanted it just as much as we did. It was a great moment.
The third champagne moment? The realisation that Jonathan Hogg is a fine player. A mighty fine Watford player. There is a very real chance that before the next home game, the ex Villa midfielder will be crowned player of the season. I'll be honest, before we signed him I hadn't heard of him. Don't you just love surprises? (Read part 2 of my memorable moments in the next home programme).
Come on You Horns!