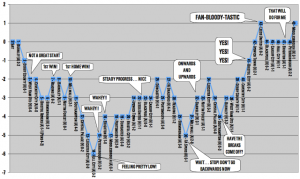 Back in February I introduced you to my Football Fan Mood Graph. It is my way to explain the ups and downs of my mood through a football season. A league table can only tell you so much; this tells a fuller picture of how approachable I am on a Saturday evening.
Here is how it works: If we win we go up 1, if we lose we go down 1 and if we draw we stay where we were.


You'll notice it's a continuum and doesn't distinguish between League or Cup. For me, my mood doesn't change just because we won or lost in the cup – a win is a win and a lose is a lose.
So after starting the season on Zero and playing 49 games (46 in the league, 2 in the FA Cup and 1 in the League Cup) here is my Football Fan Mood Graph for the 2011-2012 season.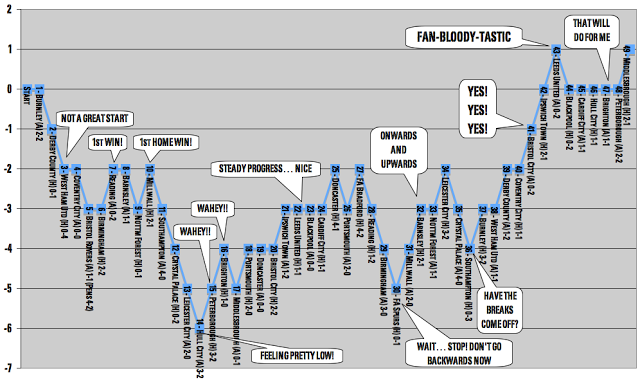 CLICK TO ENLARGE
So we started at zero and we finish on 1, which sort of makes sense for a team finishing half way up the League. To some, especially West Ham fans, that might not sound like a good season, but the graph does show all the ups and downs of our journey through the Championship this season. It shows a team that has come good after a very rocky start and that they found good performance from a bit of help from loanees and once an established and regular starting 11 the Watford owned boys could get a result.
The two most interesting points are of course the highest and the lowest. At our lowest I was worried Dyche could be in line to be sacked. The Peterborough and Brighton wins saved him and allowed him to get the team how he wanted and for several players to establish themselves fully. I feel that continuity and giving teams time to develop is a something missing from lots of football clubs these days.
My true joy comes in the strong finish to the season. Okay there are a lot of draws in there, but it is vastly improved from the poor finish we had last season. You have to love the fact we finished the season on the win, but the biggest joy is that we beat Leeds at their place!
I wonder if it fits your mood through the season and if you finished on the high I did?
COME ON YOU 'ORNS
Jon