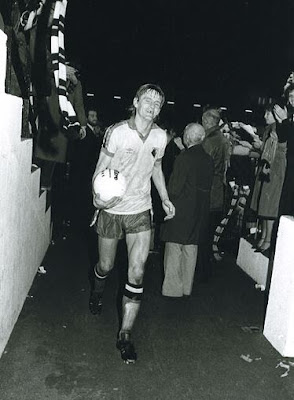 We received a wonderful email from Ross Jenkins earlier. It was directed at all Watford fans so we thought it was best that we post it up here for all to see!
Dear Supporters

I have been back to Watford to visit the end of season awards night and be placed in the ex Watford FC Players Hall of Fame . Needless to say it was an emotional evening for me but I was well supported as always by Luther and Ian Bolton.

The warmth and affection shown to me by all those who were present during our rise to 2nd position in the League made clear to me the effect I had made to so many people's lives. The evening made me very proud and my speech was well received.

I now return to Spain with all those past memories so fresh in my mind ,so I now pass on my very best wishes to you all, for your assistance and support throughout my whole 10 years. I noticed a very good rapport amongst the present players and hope very much that this carries forward to another successful period and return to the top flight.

Fondest regards to you all and thanks for your reception on New Year's Eve

Ross xxx
Ross is one of the true Watford legends and it's been good to see him at the ground this season and his induction to the Watford FC Hall of Fame is long over due. We hope to interview Ross on the podcast next season as we're sure he has a story or two for our list of Watford in 100 Objects.