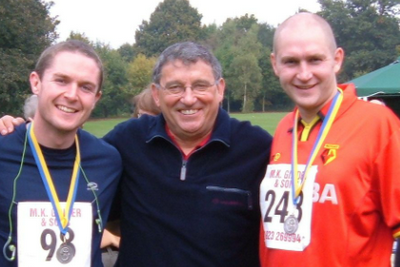 I got an email from a (Spurs supporting) friend the other day. He was all of a dither.
"What an amazing man. What a gentleman. Nothing was too much for him, he signed about a million autographs, chatted to anyone that wanted to talk and posed for photos with all and sundry. I'm in total awe of him."
He'd just spent the afternoon with Graham Taylor.
My friend was speaking after GT had spent the afternoon opening a new sports facility at the school at which he works and could clearly now be added to the enormous list of people whose lives have been touched by Watford Football Club's greatest servant.
Of course, the thing is, it doesn't (shouldn't) come as any surprise to any of us that Graham (I'm going to call him Graham, I'm sure he wouldn't mind) continues to have this effect on people. We know that he is no ordinary man.
As a manager, Graham Taylor utilised discipline, attention to detail, hard work and belief in his methods and players to bring success to the clubs he managed. As well as his incredible achievements with Watford, he will also be fondly remembered by Wolves and Aston Villa fans after bringing relative success to both Molineux and Villa Park.
In between his two stints at Watford and Villa he was rewarded with the top job and became England boss. It didn't end well of course, but as Graham rightly points out, regardless of results, he reached the top of his profession and no amount of ill informed, malicious tabloid nonsense can take that away from him.
As a manager he was tough. We've all winced at the tales of horrific pre-season training regimes and giggled nervously as we enjoy archive video footage of him telling his players in no uncertain terms that "You don't get cramp at this club!"
In being a strict, demanding disciplinarian, he achieved what he craved – success for himself and the teams he managed, but perhaps more importantly than that, he delivered success for the supporters.
Graham has always shown empathy for football fans. He gets it. He gets us.
After being critical of Watford fans in the Watford Observer, there was an angry reaction from the terraces. At the next home game, Graham marched to the centre circle, held up a hand-made sign and showed it to all four corners of the ground. It had two words on it. "I'm sorry".
Throughout the, 80's fans would often comment on the dugouts at Vicarage Road. Unlike most grounds, they were uncovered – if it rained, the managers and staff got wet. This was Graham Taylor's decision; the dugouts wouldn't be covered until the fans got protection from the elements too. He cared about Watford supporters and their experience, and it was this evident understanding and willingness to act in our best interests that made the bond between manager and supporters so strong.
When it came to Watford, it wasn't just the club and its supporters that Graham cared about. He was a big believer in the responsibility the club had to the town itself, and it is gratifying to see that so much of the community work that was pioneered under his stewardship continues today. Graham expected his players to get out there and meet the people whose town they represented, again showing his understanding of the wider importance and impact of football.
Following his two stints as Watford Manager, GT took on a number of boardroom roles, finally ending up as Chairman. During this time he and other like-minded individuals worked tirelessly to keep Watford afloat during some exceptionally trying circumstances. The issues Watford have faced have been well documented, flirting with complete financial meltdown on an all too regular basis. Graham helped to steady the ship, and in simply remaining part of the club, provide an air of reassurance to Watford fans that everything was going to be alright.
From an outsider looking in, I'd suggest the things Graham Taylor has done for Watford have entailed an awful lot of hard work and more recently, no little heartache. I don't think it's overstating the case to say that Graham Taylor has dedicated much of his life to Watford Football Club.
He's been manager, a community ambassador, board member, Chairman and has conducted countless personal appearances, giving his time free of charge to help projects, places and people that stood to benefit from the publicity or advice he could provide. He's done all these things for a lifetime, and the entire time he has acted in a friendly, approachable, kind, selfless and gentlemanly way.
With football becoming an increasingly cynical, money driven, materialistic industry, for him to remain as committed and as generous of spirit as he does is a true sign of the man.
There aren't the words to describe the gratitude I feel towards Graham Taylor. I feel  lucky that fate decreed he should become involved with Watford Football Club. I feel privileged. I feel happy. I feel protective of him. I feel proud. And when he resigned this week I felt sad. Not for long though – I don't think Graham would have approved. He'd want me, us, the club to get on with it. So I will.
Given time to reflect, I'm glad he will now have some time to relax. To watch Warwickshire play cricket. To have a few glasses of wine in the garden. To take Rita out to the Theatre. Silly as this sounds, I just want him to be happy.
You'll read and hear this a lot in the coming days, but it isn't going to stop me saying it. Thank-you Graham. For everything.