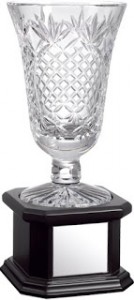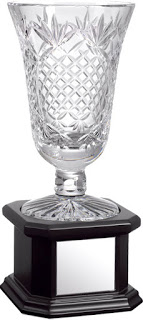 The lesser seen Football Vase .
Tonight Watford get their preseason underway with the traditional preseason opener away to Boreham Wood and there's an excitement in the air. Preseason games are great. After a two months of not seeing the team in action, you finally get a taste of what the team might be like come the opening game of the season. You can begin to prepare your family and friends of your post 5pm moods. "Sorry love, I'm not going to lie to you. They were terrible away at Wealdstone. You'd better have a a strong sedative ready for Saturday nights this season". Plus at a game like tonight you get to visit a non-league stadium which jogs the memory as to what football stadiums used to be like in days of yore!
However, the problems with preseason friendlies are all too clear. You only get to see the first team in full effect for the first half (no one wants to get too tired or get an injury) and there is nothing truly on the line to bring out the competitive side of a players! However, last summer Southampton ran a slightly different pre-season friendly. The club invited Athletic Bilbao (Spain), Werder Bremen (Germany) to St Mary's where each team took on the other two (three games total) in a games lasting just 45 minute. They did it again this last weekend with Arsenal and Anderlecht.
So here's my proposal for the new Watford owners for a new look preseason…
The Pozzo Vase (it would be a glass vase as you don't get much glassware in football) would be an annual preseason celebration between the clubs in the Pozzo family – Watford, Udinese and Granada. Each year the location of the tournament would rotate between each club/country and it would bring together fans from the teams in the Pozzo football family where they can bond and create new friendships.
In between each game there would be a 45 minute break for refreshments, recovery and interaction between fan. The shorter matches means we'd not only see intense and competitive games, but with 45 minutes in between each match the first team will be at their strongest and players won't be too stretched before the real season kicks off.


With a Vase at stake there's a guaranteed competitive edge to the games and fans are bound to get their monies worth – especially if they have travelled from another land. And of course there will be the added incentive of showing off in front of the Godfather who would present the cup to the team with the best record in their two games. It will give squads their annual away trip for team building and every 3rd year they can make a trip somewhere different!
It will be a real event for the host club who might be able to capitalise on tournament as it's bound to be a cash generator in both beer and merchandise sales.
I've been known to come up with a silly idea or two, but the Pozzo Vase can only be a fantastic thing for fans from every club!
– Rookery Jon
Download the latest podcast via iTunes. Plus, get FTRE blog posts sent straight to your inbox. Simply enter your email address in the "Subscribe by Email" box in the right hand column near the top of this page. Or if you're really technical you can use this RSS code.