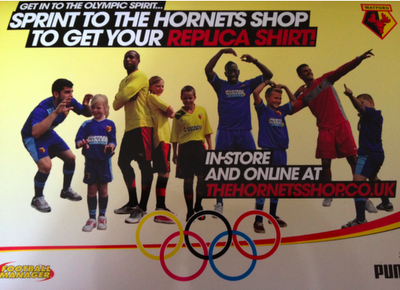 Well that wasn't so bad was it? For the football fan, the summer usually represents a seemingly never ending wait for the season to re-commence.
Days are spent searching for even the smallest crumb of news regarding your club, scouring the darkest recesses of the internet to find out a bit about the 13 year old Moldovan that someone claimed may be on his way for a trial.
This summer was a bit different though. Of course, as Watford supporters, we had the takeover saga to keep us occupied, whilst there was also the excellent Euro 2012 for a less parochial football fix. Then there was the Olympics. The great big, wonderful, awesome, inspirational, bonkers Olympics.
You can probably tell that I loved it, I hope you did too, but since the games closed, conversation seems to have focussed around two things. 1) What on earth was the closing ceremony all about, and 2) Why can't footballers be more like Olympians?
I'm not going to answer either question, they've both been done to death. Instead I am going to look at whether footballers could be more like Olympic events, as I reckon at Watford we have a few candidates.
Take Lloyd Doyley as an example. Celebrating his testimonial year, Lloyd has triumphed in the face of adversity, kept fighting when it looked like it would be easier to give in and above all else, has been going for ages. Lloyd is clearly the footballer version of the ultimate endurance race – the Marathon.
For whatever reason, the Beach Volleyball has proved to be a popular sport since it's introduction to the Olympic schedule. Unfeasibly attractive people playing in unfeasibly small swimwear. I can't see the attraction myself. There's a man at Watford who'd fit right in though.
With his Hollywood smile and gleaming white teeth, John Eustace is the perfect fit. Team GB excelled in a number of sports during the summer, although we came up a long way short in the synchronised swimming.
Perhaps if we'd sent the Watford defensive pairing of Martin Taylor and Nyron Nosworthy we'd have done better. Their near telepathic understanding and precision timing make them the living embodiment of the sport. Perhaps.
There has been a lot written and said about Sean Murray in recent months. I'll vouch that this is the first time he has been likened to the 200 metres sprint though. Whilst 'our' Sean isn't the most spectacularly skillful player, he still manages to deliver electrifying excitement.
Not quite the 100 metres, the undeniable jewell in the athletics crown, but one that delivers regardless. I wonder if the nickname '200 metre Murray' will catch on? We'll see.
Taekwondo appeared to be primarily about blocking your opponents scoring efforts, so I'm hopeful that Manuel Almunia will prove himself worthy in that category. After losing previous ping pong champs Danny Graham and Aidy Mariappa, I'll avoid talking about table tennis, and move onto shooting. With an admirable record of 26 goals in 60 goals for Granada, it sounds like Alex Geijo has a reasonable eye for the target.
Finally, the arguable stars of London 2012, were the Team GB cyclists, a group of athletes whose attention to detail, dedication and skill has propelled them to the top of their field. Let's hope that Gianfranco Zola can emulate cycling supremo and guide Watford FC to similarly lofty heights.
Come on You Horns!