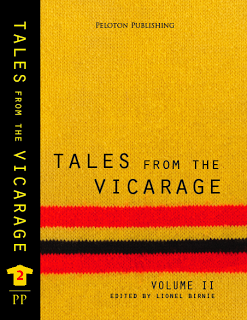 Send us photos of your favourite Watford scarf… can we get enough to reach all the way to Wembley?
Tweet your Hornet scarf photos with the hashtags #scarvestowembleyand #watfordfc
If you're on Facebook, post a photo on the From the Rookery End page.
Why? Read on…
The second volume of the book Tales from the Vicarage will be out at the start of next season. Our very own Mike Parkin is one of the contributors to this collection of stories about the Hornets…
The cover of the book features a photograph of great sentimental value to editor Lionel Birnie.
Back in 1984, his mum knitted a Watford scarf for his friend. That friend is now a sports photographer, Simon Gill, who was at Vicarage Road to capture the incredible drama of the play-off game against Leicester and will be at Wembley next week.
After the striking original artwork of the first volume of Tales from the Vicarage, Lionel knew he wanted a very different look for the second book, as he explained.
'There's something about a football scarf that resonates with us all,' Lionel said. 'We've surely all owned one at some point – whether it was a silk scarf from the seventies, a hand-knitted one from the eighties or the more modern printed scarves with a slogan on.
'The scarves my mum knitted in the 1980s have lasted to this day. As Watford fans, we're blessed with a great colour-scheme. Yellow, red and black are so vibrant but when you add the texture of a good old-fashioned football scarf, as we have done for the cover of the book, there's only one thing it could be… A Watford football scarf.'
I agree. There's nothing more effective than a sea of scarves held high above the heads of fans. I was very picky about my scarf, and I spent a long time trying to find the right look. I was after a yellow, black and red-striped knitted scarf and I was so happy when I got the one below from the Hornets Shop a few years ago. It now comes to every game with me.
So, show us your scarves! We want to see all the different ones out there – old ones, new ones, the shop-bought and the home made.
Take a photo of yourself holding your scarf above your head or, if you'd prefer, lay it out horizontally.
Either way, let's see them…