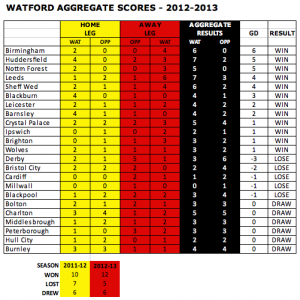 Doing the double over a team is something football fans look out for in the latter half of the season, especially if things aren't going as planned. Finding a positive anywhere you can is part of a football fans survival. Over the last two seasons I've taken that idea to the next level. I've got clever with excel and made the below table of Watford's aggregate results: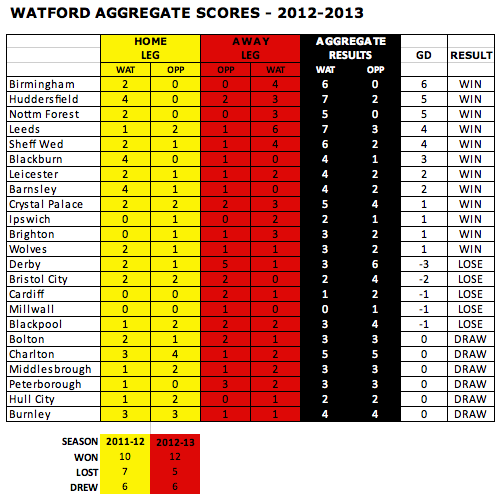 It will be no surprise to anyone that we have won more games on aggregate this year then we did in 2011-12. You don't go up the league as much as Watford did without winning more games, but it's only two games on aggregate. However, the number of games drawn is exactly the same over two legs. And, I think, most surprising is how many ties we won by more than 4 goals – 5 games. As you will see below, in 2011-12 our biggest goal difference was only 3. Yes we 'should' have beaten Sheffield Wednesday and Huddersfield well, but it's nice to see big wins over Birmingham, Forest and Leeds (especially Leeds).
It's no surprise that we lost our aggregate game against Derby by 3 goals; we would have had to of done something very special to get over the 5-1 drubbing at Pride Park back in September. However, the big down in this list of results must be losing to relegated, and finished bottom of the table, Bristol City.
The satisfying win are having come out on top over Crystal Palace – I'm really grabbing at straws aren't I?
Here is the 2011-2012 results: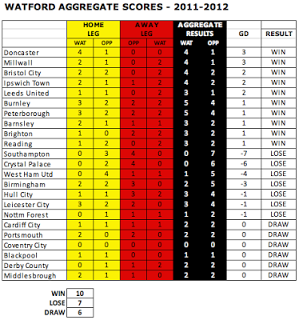 RookeryJon