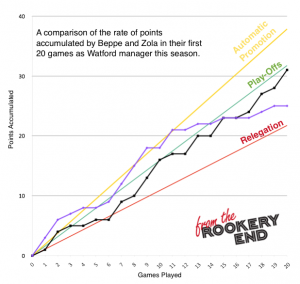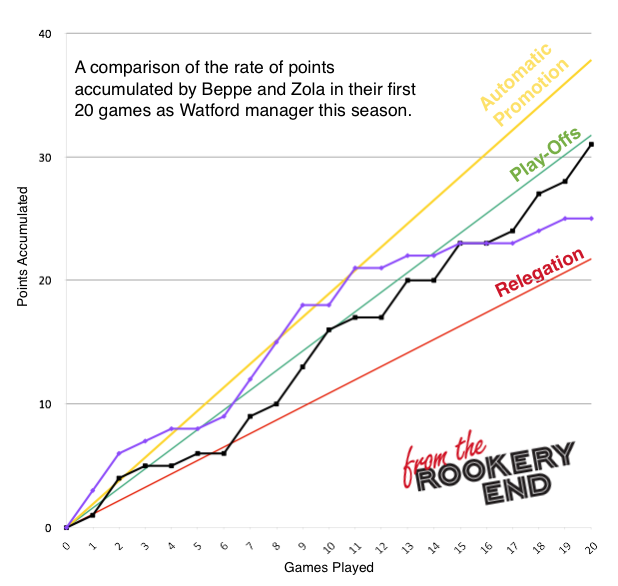 After Jason's blog post "
Boring Boring Beppe
" and a mini l
eague table of Zola v Beppe
 after each being incharge of 20 games this season, our Watford brothers in Denver USA took the analysis a little bit further and have done an interesting graph.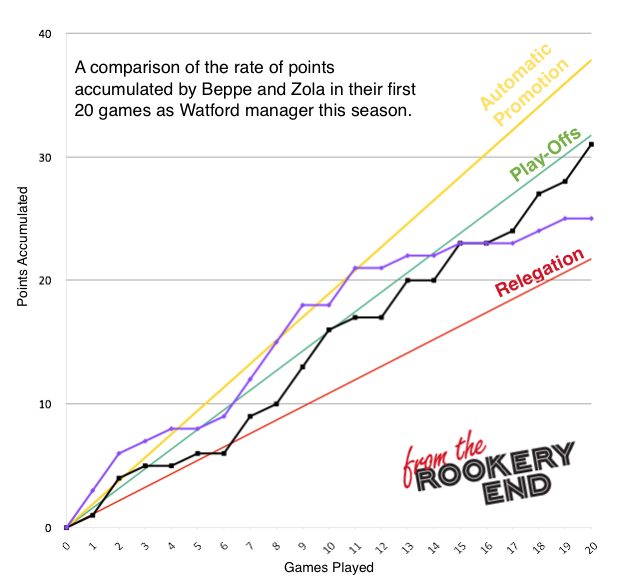 The graph above shows how points were picked up by game under our two managers.
As you will see there are three straight lines:
——– The red line represents relegation form (50 points for the full season)
——– The green line represents playoff form (73 points)
——– The gold line represents automatic promotion form (87 points)
Then curved lines represent the each managers accumulation of points:
——– The black line represents Sanninio
——– The purple line represents Zola.
So what does it show? 
Zola got off to a slightly better start than Sannino, and after game 11 (away at Huddersfield Town) the Golden Boys were on track for automatic promotion! That was the last win under Zola, and our form dipped below the pace needed to reach the playoffs, and headed towards that of a team involved in the relegation scrap.
Watford under Sannino have been more consistent, catching up with Zola's points total after 15 games, and ending 6 points better off.  Over Sannino's time in charge, our form has been just a fraction of a point below that of a playoff team (based on historical averages).
One final comparison
According to the BBC's report after the
home defeat to Sheffield Wednesday
, Watford were in 13th place and 8 points behind 6th place Leeds after Zola's last game in charge (20 games).  After
20 games under Sannino
, we are now in 12th place and 7 points behind 6th place Reading.  But we also have a game in hand over all of the teams above us (away against Charlton) – if we win that, we would be in 10th place and 4 points off the playoff spots.  A modest improvement perhaps, but an improvement nevertheless.
As Jason's original post inferred, many Watford fans will judge the two managers on the entertainment value and not the stats. However, the analysis of the two men over the last day or so shows that there isn't a huge amount between them, but maybe Beppe's emphasis on tactics has resulted in a slightly better run of results!