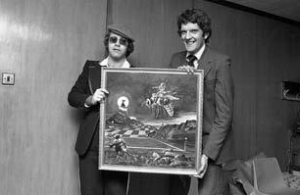 Our list of 100 Objects, that define Watford FC, is only made great by your nominations. Several have nominated Terry Challis's painting of Elton John on the Back of a hornet and Kelvin Grimwood told us what the painting and Terry's weekly Watford Observer comic strips meant to him as it does many Watford fans.
Terry created this painting in 1977, before I had ever visited the Vic and "seen the light"!  
My first visit to the Vic wasn't until 1981 and I guess when I first saw this, I thought it was a review of what had happened since Elton had become Chairman and was shocked when I learnt that it had been created 4 years earlier when Elton first took over the club. At that moment tt struck me how accurate and visionary Terry had been. 
It's one of those paintings where each area you looked at, you noticed something else, like the Statue of Liberty and Eiffel Tower.  I guess that's what real art does. The only things it seemed to miss out was Luther scoring or Johnny Barnes running down the wing.  It captures Elton, dressed in his normal flamboyant style astride the big Hornet, pointing the way to a player from a cabbage patch of a pitch looking out on a flat mowed green pitch looking past the old Shroddels stand to a new modern stand.  Then lots of pitches to do battle on to the tip of hill paved with gold, upon which sits the Liverpool Liver Bird, who were the cream of England and Europe at the time. Then beyond it the Twin Towers of Wembley and international lands beyond.  It just captures, in one piece of art such an great piece in our history.  
To me, Terry interpreted the dream or vision of a "flamboyant" pop star who had bought the club he had supported as a boy absolutely perfectly.  In 1977, I imagine that most fans thought it was pure madness, especially after the fallow Bonser years that had just ended.
Terry Challis was well know to us all then as a great cartoonist through his brilliant weekly work in the Wobby, and personally growing up, I looked forward to his cartoon every week because he could sum up what the average fan was feeling about the game(s) the week before.  What was less known was that he was also a fantastic artist.  
To me, this painting is a lasting legacy of his talent.