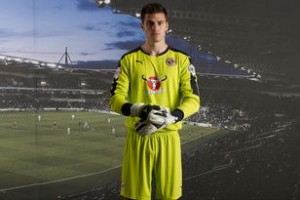 We are Premier League.
Still sounds good doesn't it? Since that memorable day at Brighton it's slowly been sinking in, but over the past couple of weeks the realities of being a top flight club have become increasingly evident.
Vicarage Road is undergoing a pre-season overhaul and expansion, we've signed players from Steaua Bucharest, Tottenham, Roma and Werder Bremen, have successfully tied down key performers to lengthy new deals and in Quique Flores now boast the most handsome head coach in the Premier League. As we had always suspected, Gino Pozzo means business.
The Pozzo driven transformation at WD18 has of course meant casualties. Dániel Tőzsér has used social media to flag up his apparent departure, but it's the sale of Jonathan Bond to Reading that has stimulated the biggest debate of the close-season so far.
Bond started just 22 games whilst at Watford, but his continued selection at International Under 21 level suggested that he was a talent. Allied to this, he was a local lad. One of our own, a product of the academy system of which we are rightly so proud. From Bond's point of view it's hard to argue that the move makes sense. He was clearly third choice at Watford, with Heurelho Gomes and new arrival Giedrius Arlauskis set to slug it out for a first team place, but despite this his sale left some feeling understandably flat.
Of course there's no guarantee that Bond would have gone on to be anything other than an average goalkeeper; Scott Loach is a recent illustration that early promise and international recognition do not a top goalkeeper make, but it strikes me that this is missing the point. Bond is a homegrown academy graduate that is moving on due to lack of opportunity. Is this a dangerous precedent for a club like Watford to set?
There are very few supporters that won't be welcoming the slew of signings that seem imminent. Staying up this season could be absolutely critical for the club, and shipping in quality, experience and talent seems to be a sensible way of giving us a fighting chance. But at what cost? Are the last remnants of the Watford we knew being swept away in a bid for success?
Investment in the Academy and a subsequent upgrade to Category 2 status would seem to indicate that youth development remains high on the agenda and most will have taken heart and pride in the announcement this week. But amongst the excitement, questions have been asked. so what do you think? Are Watford doing it right, or is Jonathan Bond's departure a potential cause for concern?
Let us know what you think by leaving a comment below.
Come on you Horns!