Welcome to the seventh season of From the Rookery End! As ever, it's an exciting time to be a Watford supporter and we're looking forward to bringing you a fans-eye view as the first year under Walter Mazzarri unfolds.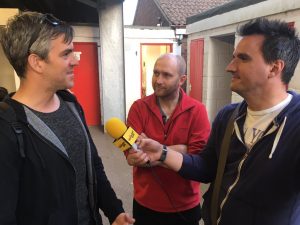 In this, the first podcast of the campaign, we head to the Hertfordshire derby at Stevenage to run our eye over some of the new recruits, talk Troy, discuss 3-5-2 and cover off everything else that's happened since the end of last season. Good grief, it's great to be back! Come on you 'Orns!
GLAMOUR: Micheal Moruzzi with Jason and Jon… recording outside the toilet!
On the podcast, Jon mentioned the awesome poetry Watford fans wrote on the announcement of Jose Manuel Jurado was leaving the club. You can read them here – Odes to Jurado.