WATFORD 1-2 CHELSEA
With Mike away topping up his tan in Greece, Jon and Jason are joined by Jordi to react to the home loss against Chelsea.
They talk about the rise of Etienne Capoue "Goal Scorer", how the final 25 man squad is shaping up, and who might lose out after the signing of Roberto Pereyra and Younes Kabol. And with our aim to get more Watford fans on the podcast this season, Jon talks to Watford fans Paul Dewen (from the Denver Hornets) about his calculated prediction for the season, and Watford Blogger Bradley Hayden about his recent interview with former Watford Coach Dean Austin.
Things we talked about:
Watford FC 2016-17 Squad – Depth Chart
First created by the Denver Hornets, here is an updated version of the depth chart that was discussed on this weeks pod.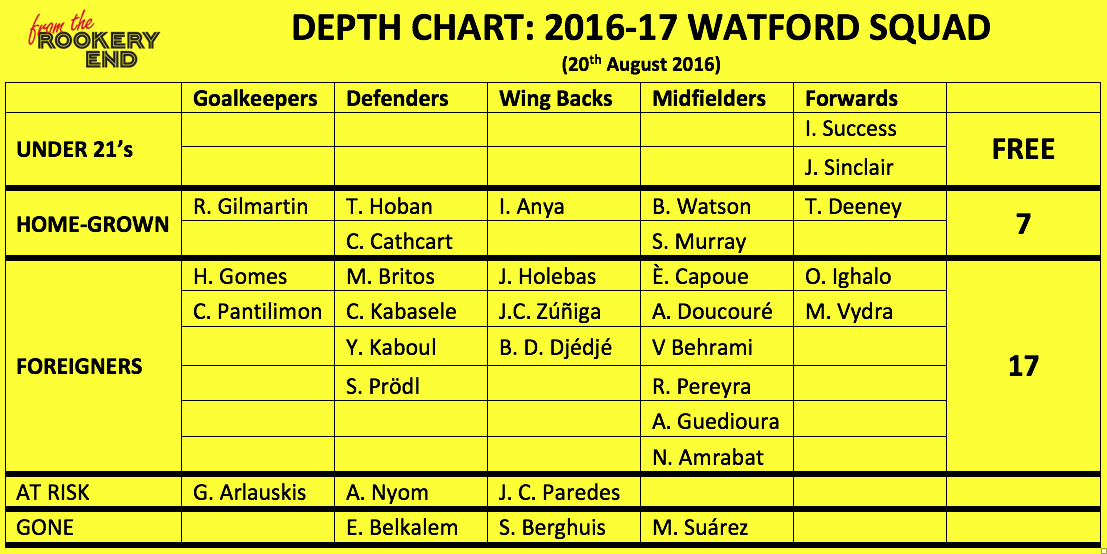 Bradley Hayden
You can read Bradley's regular work on Watford FC on his blog thewatfordblog.com and his bi-weekly Fan's view column on The Watford Observer website.
The full interview with Dean Austin can be found here.