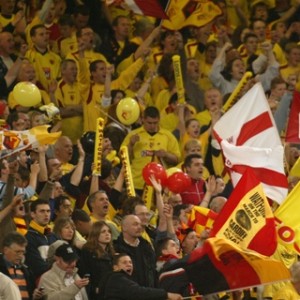 So. Here we are. Five games to go and somehow, lord only knows how, we are still in there and fighting. I really don't know whether to laugh, cry, or just go on holiday until the whole thing is over.
This game was yet another Vicarage Road endurance test. After the welcome surprise of a Nathan Ellington goal (a well taken one at that) we seemed to run out of ideas and slowly but surely Coventry took over, knocking the ball around, sucking the life out of both the game and the crowd.
After half time there wasn't even a rally after one must assume was a rocket from Aidy Boothroyd – it was just a depressing extension of the first half with Watford looking more and more devoid of ideas or confidence and Coventry just working the ball around, not really threatening, but in charge none the less.
Their goal came after 60 minutes, and unfortunately it came as no surprise. All too easily Leon Best nodded home, all to easily it looked like our season was slipping away. Again, there was no rally, no real indication that either the players, manager, or the fans thought that we were going to get a win out of this.
The situation was rather sadly summed up with the following from the terraces:
"Play your hearts out for the fans" came the crowd's plea.
"Boooooooooooooo" shouted those same fans minutes later, following the introduction of current pantomime villain Jordan Stewart.
Whilst this exchange serves to highlight the frustration that I'm sure everyone felt during the game, it also brings into sharp focus the fact that some Watford fans need to have a long hard look at themselves, and perhaps do a bit of research into the club's history and resources. Believe it or not kids, we have very rarely had it so good… Anyway, I will cover the booing of Jordan Stewart elsewhere, but those fans will hopefully have noticed the upturn in fortunes down the left following Stewart's introduction.
Despite the reshuffle it was looking increasingly likely that we weren't going to do the business and a point was the height of our ambitions. That was until Vialli throwback Stephen Hughes let a through ball bounce over his head, allowing Tommy Smith to run on unchallenged and a Watford player beat Kasper Schmeichel between the sticks for the fourth time this season.
Cue some of the best celebrations seen at Vicarage Road in a long time and all of a sudden, against all odds, and despite ourselves, Watford are back in with a shout. Of course we need a better performance, a much better performance against Barnsley tomorrow night, but win that one and we can count ourselves well and truly back in the race for promotion.
The impending return of Darius Henderson and John Eustace provide some comfort and cause for optimism, but despite poor results for Bristol City and Stoke I still don't know whether to laugh, cry, or just go on holiday until the whole thing is over…